✤WHAT IS GOLD-FILLED?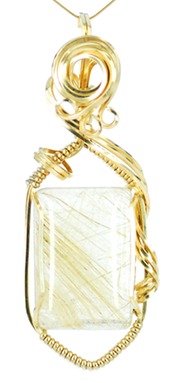 Those not familiar with art jewelry may not have come across the term gold-filled before as it is a material created specifically for wire art jewellers. Gold-filled is made by forming a tube of  solid gold which is filled with a base metal, usually brass. It is an affordable quality alternative to solid gold as it wears and looks the same, and keeps the price of owning a unique handcrafted piece of jewelry manageable for most people. 
Gold-filled items are very hard wearing and under normal conditions are considered lifetime products.
Gold-filled is not to be confused with 'gold-plated' - gold-plate is a microscopically thin layer of gold adhered by electroplating (or dipping) to any base metal. Items that have been gold-plated will quickly wear, peel, flake and tarnish. US Federal Trade Commision requires the minimum layer of karat gold in a gold-filled item to equal at least 1/20 the weight of the total item. This is 50 to 100 000 times thicker than regular gold plating which is not regulated.