I love custom orders, though it makes me very nervous, creating to someone else's vision! But as long as the customer likes my existing work and style, and I keep within my capabilities, the outcomes are always happy ones. :D
I was asked if I had any more mookaite in lovely purpley/pinky/yellowy shades like this bracelet….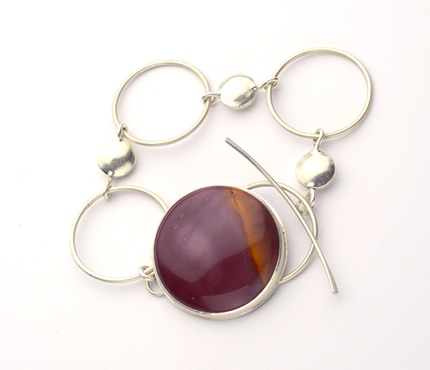 Well, it just so happens that I did! I've got several slabs of mookaite sitting around - it's an Aussie stone and is reasonably easy to pick up at local rock shows.
So I showed her what I had left from the slab that the previous cabochon was cut from….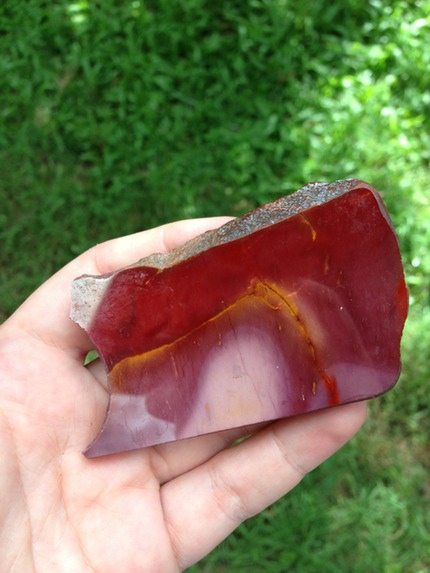 She deemed it a-okay, colour-wise, and gave me an idea of where on the slab she'd like her cabochon cut from…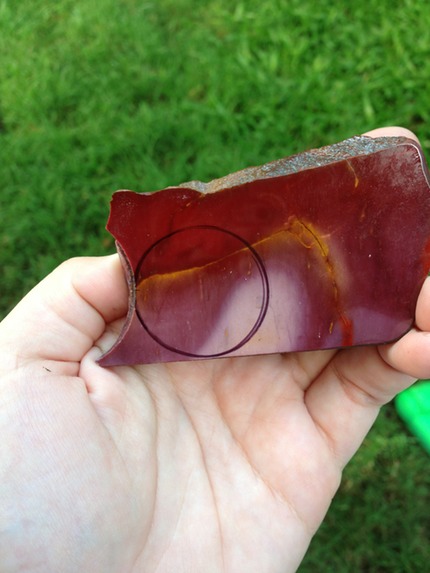 This is what we decided on to get the maximum amount of the colours she wanted in the cab.
Next, to cut the cab. Cut cut cut……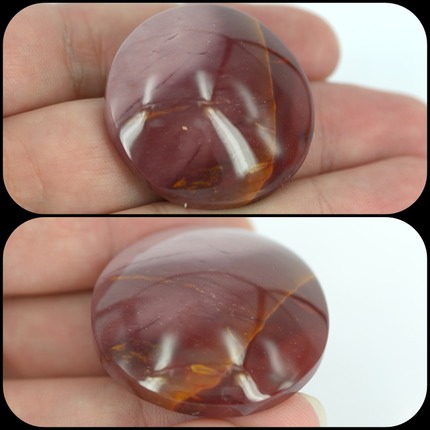 And we have a round cabochon of mookaite, approximately 30mm in diameter, and nigh on impossible to photograph due to the glossy finish that this awesome hard material takes.
Next, setting design. The lovely customer lady wanted a simple enough setting, with just a bit of embellishment - this was going to be a biggie anyways without any extra doodads hanging off the edges. So I did a few sketches of simple embellishments and she decided on cuts/lines at the points where the yellow vein in the stone reaches the edge. Just adds a bit of interest.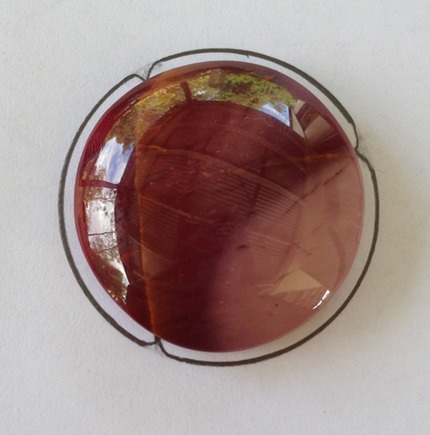 And I liked the straight line that reached both edges to be sitting in a vertical position - this actually lines up with the edge of the finger when it's being worn, you'll see in the next picture.
So, next task, set the stone, 7mm band with a stripe cut on the band to echo the image in the stone. Oxidised, then cut back to a satin finish with high polish highlights.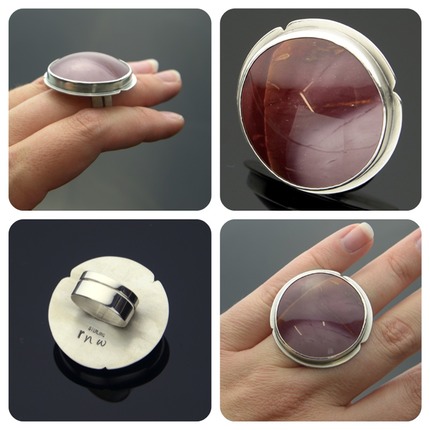 Done. And off to its new owner on the other side of the world.
Phew.
El x